Looking for Upgrades?
(previously on MyInstallCenter)
Click the green LOG IN button in the top right corner of Eyefinity.com. After logging in, click the banner ad shown below. For login help, email us or call 877.448.0707.

Looking for Training, Videos, Documentation, and Knowledge Articles?
(previously on OfficeMate.net)
Log into the Support Community, or in OfficeMate or ExamWRITER, click Help and select a resource.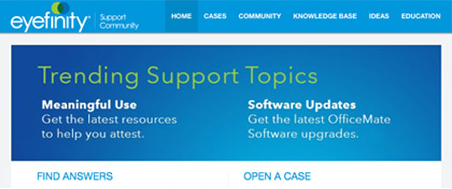 Looking for Support Contact Information?

Contact us at 800.942.5353 or officematesupport@eyefinity.com.
Note: Your old OfficeMate.net and MyInstallCenter username and password no longer work.