Eyefinity® simplifies the frame and contact lens ordering process for the eyecare industry through integration with the world's leading manufacturers and suppliers. Practices can order from a selection of more than one million eyewear products, all in one convenient location—eBuy.

Marchon is one of the world's largest, most successful manufacturers and distributors of quality eyewear and sunwear. Widely recognized as an innovator, Marchon consistently brings new designs and technologies to the eyewear market. Their portfolio includes some of the world's most prestigious fashion and sport brands: Calvin Klein, CK Calvin Klein, Disney, Fendi, Flexon, Flexon Kids, Karl Lagerfeld, Marchon, Michael Kors, Nautica, Nike, Emilio Pucci, Sean John, Nike, Tres Jolie, Ventana, X games, and more.

Altair Eyewear supports independent eyecare professionals with advanced eyewear technologies, a unique business model, and a portfolio of distinctive brands.
The Altair frame collections cater to a majority of eyewear consumers from cutting edge and fashion-forward, to no-nonsense and practical. Our brands are sold through independent optical retailers and include Anne Klein, bebe, Tommy Bahama, Revlon, Joseph Abboud, JOE Joseph Abboud and our house brands, such as Genesis, Otis and Piper, Sunlites, Sight For Students and Altair.

For more than 20 years, the Charmant Group has been a leading manufacturer and wholesale distributor of ophthalmic eyewear and sunglasses. Charmant has dedicated itself to bringing new and exciting eyewear to the marketplace. Their high standards and customer service, coupled with a business philosophy that stems from the words quality, innovation, and value, have led to their success. Coupled with unsurpassed style and durability, Charmant delivers a collection that is a step above the competition.

With over 35 years of experience, the Kenmark Group prides itself on providing quality products, competitive prices, and superior customer service. With a diverse portfolio of brands from top fashion house designers to American icons, they offer products that consumers want. Couteur Designs, a division of the Kenmark Group, features designer eyewear by Dana Buchman, Vera Wang, Jhane Barnes, and Cynthia Rowley. Branded collections from Kenmark include República, Thalia, Hush Puppies®, Wolverine®, and Timex®. Their house brands include Comfort Flex®, DestinyTM, and Gallery®.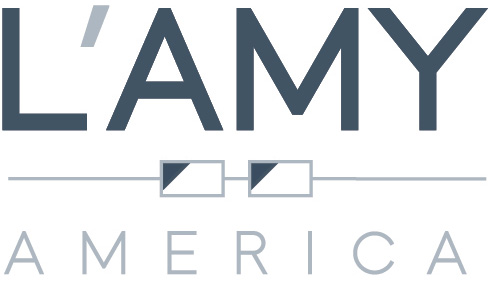 The L'Amy name, steeped in over 200 years of eyewear design heritage, thrives on the founding principles of innovation and quality. L'Amy America integrates these very principles in each of its selected brands for a vibrant portfolio of understated luxury, distinctive design, modern technology and contemporary styling.
At L'Amy America, brands are independently impressive and together extraordinary. In addition, extensive sales, distribution, and manufacturing networks provide customers with exceptional service worldwide. With complete mastery of the product creation process, from raw material to marketing strategy, their vision translates high-powered brands and their values into premium eyewear. Together, their vision and yours translates an incomparable product offering into long-term consumer loyalty.

Born on the sunny beaches of Hawaii in the early 1980s, Maui Jim Sunglasses were created out of need. In this case, the need was for a sunglass that would eliminate the harsh Hawaiian glare without distorting the beautiful colors of the island scenery. Everyone said it was impossible - the elimination of glare and color clarity just did not go together. After years of research and development, the impossible became a reality and PolarizedPlus® emerged. Most polarized lenses stop with ordinary polarizing film, but Maui Jim incorporates a bi-gradient mirror, waterproof coating, and an anti-reflective treatment. The result: Unrivaled visual acuity, complete glare protection, contrast, and exquisite color.

Focusing on fashion lines and highly valued brands, REM Eyewear is a leading designer and marketer of eyewear worldwide with offices in the U.S., Hong Kong, Europe, and Australia. REM's portfolio of brands includes Lucky Brand, Jones New York, Converse, Barbie, Rembrand, and the Plus+ line of Readers. Family owned and operated for more than fifty years, the company is headed by industry veterans Mike Hundert (CEO) and Donna Gindy (COO). Renowned designer Blake Kuwahara, Creative Director, leads a team of bright, savvy designers who have applied their creative vision to bring an excitement and a fashion story to collections of REM.

Rudy Project is one of the world's premiere sports eyewear companies, driven by technology, materials development, cutting-edge science, and advanced design for those who expect the best. Conceived initially for athletes, Rudy Project eyewear has rapidly become widespread amongst a broad clientele of weekend warriors worldwide, thanks to the combination of unparalleled design and function, superior lens technology, exceptional quality, and extraordinary warranties.

Safilo is a world leader in designing, manufacturing, and distributing a large variety of internationally acclaimed eyewear. Each year Safilo offers over 30 ophthalmic and sunglass collections, 20,000 fitting options, and 400 new style introductions, providing an extensive selection of contemporary frames for your customers. With Adensco, Armani Exchange, Banana Republic, Boss Black, Carrera, Claiborne, Diesel, Dior, and Gucci among their coveted brands, the Safilo Group oversees the entire production and distribution chain, from research and development to distribution and logistics.

Since Silver Dollar Optical's beginning in 1982, it has always been their goal to bring quality value product to the optical industry. Since then, their loyal customer base has confirmed their vision. In trying to meet the challenge, they are constantly keeping an eye on the moving target that fashion brings while making it affordable for their business partners. Combining this with a customer service team that really enjoys helping people, they are a wonderful option for this segment of the market.

More than forty years ago, orthodontist and ski bum, Dr. Bob Smith, sat down at his kitchen table and created perhaps the most vital piece of ski gear next to the ski, boot, and binding - the non-fogging ski goggle. This small company, born in the tradition of American ingenuity, has grown to be the undisputed market leader in snow goggles, and a major market force in both the sunglass and snow helmet categories.

Tura is a leading eyewear distributor in North America. The company's high-quality products are manufactured by experienced factories around the world. Tura meets the needs of the independent practitioner by catering to them with exclusive product designs and exceptional customer service. Founded in 1938, Tura is recognized for its product quality and design, its sales force combined with unique sales programs, and customer service along with its state-of-the-art distribution center.

Viva International Group is headquartered in Somerville, New Jersey, with worldwide distribution in more than 50 countries. Viva has been dedicated to providing eyewear that meets or exceeds the expectation of customers and brand licensors for quality, image, value, innovation, and service. Designer collections include GUESS? Eyewear, Tommy Hilfiger, Candie's Eyewear, Harley-Davidson Performance Eyewear, Catherine Deneuve Lunettes, Bongo, GANT, Etro, Escada, Furla, Givenchy, Ermengildo Zegna, Magic Twist, and MagicClip.

Michael and Wink Jackson created Zeal Optics because the eyewear they were using as professional athletes wasn't good enough to meet their performance demands. As designers, athletes, and entrepreneurs, they knew they could create a better performing, protective, stylish eyewear that their customers around the world would appreciate. Zeal Optics is zealously dedicated to creating a high quality, innovative product that is superior in design performance. Their patented, exclusive frame designs include ZB-13 and ZB-13 Polarized lenses, featuring a women's specific collection. Most all frames are Rx ready and provide maximum versatility in all conditions. Zeal collections feature styles to fit all kinds of shapes and sizes of faces of women and men.